About us
A wonderful stay at 800 meters from the beach
Welcome to Guesthouse Maravilloso in Andalusia, the region where the sun shines all year round.
Sun, sea, beach and Spanish tapas are plentiful. Worth seeing cities like Malaga, Marbella and Mijas Pueblo are nearby. But also the Moorish cities of Granada and Cordoba are not far away and even Seville can be reached within 2 hours by car.
You can also do outdoor hiking ( Camito del Rey), cycling and there are many and wonderful golf courses nearby. In short, your vacation will be too short to see and experience all the beauty. No point! Coming back is always possible.
Our guesthouse is located in Torreblanca, Fuengirola on the Costa del Sol. Our house is 54 meters above sea level and about 800 meters from the beach. Nice beaches! Los Boliches on one side and Carvajal on the other. Cozy beach bars, nice eateries and great for walking. Fuengirola is also a very pleasant place. Strolling, shopping, going to the market, to the harbor, to the cafes – all very close together and therefore very easy to do. You understand: here you will find entertainment all year round. Here we will give you a hospitable welcome.
You fly to Malaga in 2 ½ hours and from the airport we can be reached in 15 minutes by car. But even by train you can be in Torreblanca from the airport in 20 minutes.
For thirty-five years we have enjoyed running hotel-restaurant Auberge st. Hubert and later ran Droomhotel 't Heinenhoes in the Netherlands. After so many years in the hospitallity business we wanted a house in Spain and after six months of searching and waiting, we are now enjoying our villa Maravilloso, where we live and will rent out two guest rooms.
Dick & Sandra
Discover
Our Rooms
Our guesthouse has two spacious, bright rooms, of course with private bathrooms and toilet. Furthermore, all the amenities are present that you can expect if you want to enjoy a wonderful vacation in Andalusia.
You'll find a well-stocked refrigerator with wines, beers and soft drinks. Free Wi-Fi throughout the guesthouse and free sunbeds and sun chairs by the pool.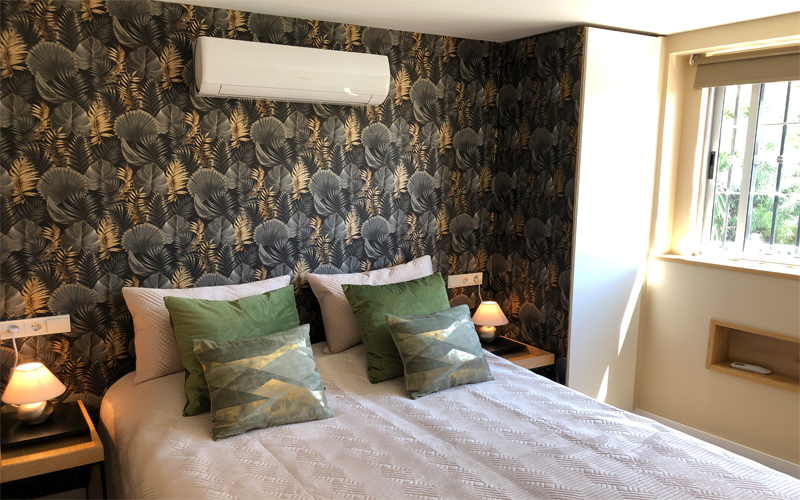 La primera
A spacious suite of 40 m2, consisting of a bedroom, sitting room and bathroom. Of course, the room is equipped with all modern conveniences:
Bathroom with rain shower
Spacious beds
Towels and bathrobes
Smart TV with all channels
Air Conditioning
A seat in the room
Access to the pool and terrace
Free wifi
Price per night
becomes visible when booking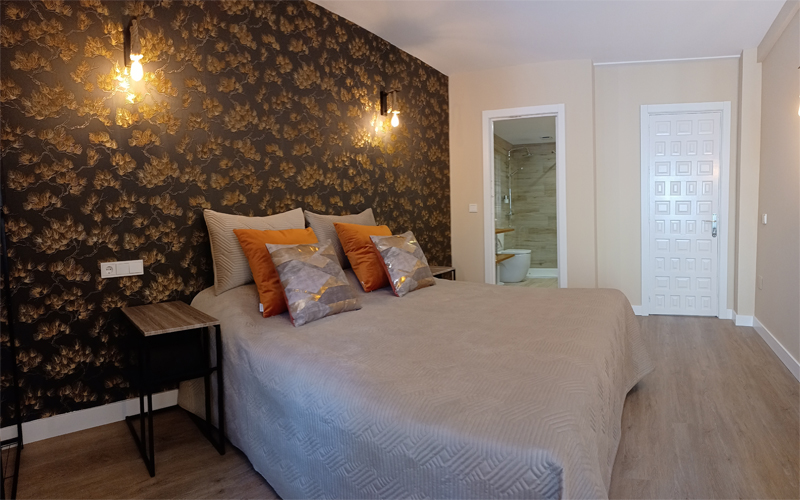 La segunda
A spacious double room of 30 m2 with all modern conveniences:
En suite bathroom with rain shower
Spacious beds
Towels and bathrobes
Smart TV with all channels
Air Conditioning
A seat in the room
Access to the pool and terrace
Free wifi
Price per night
becomes visible when booking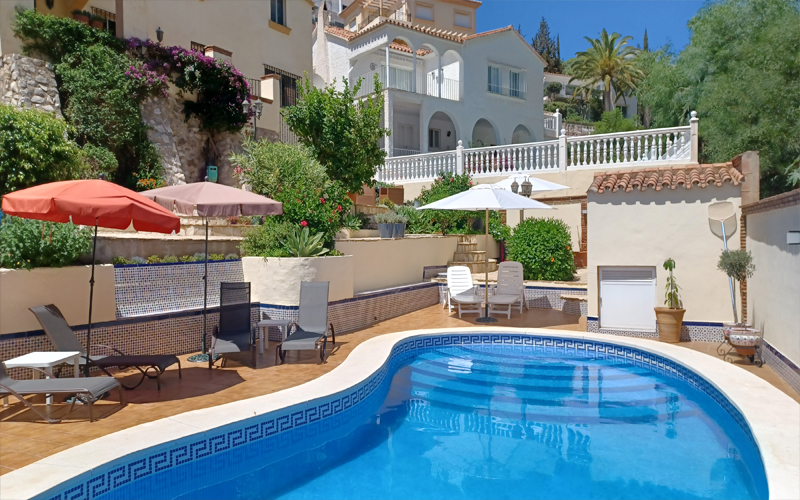 Our services
Daily housekeeping
Bed linen
Towels
Bathrobes
Swimming pool and terrace garden
Sunbeds and parasols
Smart TV
Free wifi
Free Parking
Food & Drink
What can we put on the table?
Fresh breakfast every day!
Homemade bread, fresh fruit, an egg dish and extras like yogurt, granola, juices. And, of course, coffee and tea. All this served by the pool or on the terrace.
You must order and pay for this service separately.
Other drinks
There is a well-stocked refrigerator containing wine, beer and soft drinks. You can get your own drink out of this and enjoy it in the garden or by the pool.
At the end of your stay, you will pay for the digestions
A beach basket on demand?
There are lots of beach bars on the beach, but would you rather bring a well-stocked beach basket?
Two sandwiches, a fresh fruit juice, a slice of watermelon or pineapple, a bottle of water and a candy bar. All this in a cooled basket to take to the beach. We can take care of that (upon request)!
This service should be ordered and paid for separately
What a wonderful place! And what a welcoming bunch! Sandra & Dick made an unforgettable impression on us and their Guesthouse was in a word Maravilloso!
Information
What we have to offer
Free WiFi
Fast Wifi via fiber optics. Also to watch Netflix.
Parking
Two parking spaces are available.
Comfortable rooms
Everything is there: TV, air conditioning, spacious beds, nice bathroom, hairdryer etc.
Garden / Terrace
Seats, sun chairs, loungers and parasols
Refrigerator
A cold lager, a refreshing drink or a Spanish wine? You'll find it in our refrigerator!
Pool
Just to cool down and then on such a lovely sunbed!
Coffee & Tea
A kettle and an espresso machine. Ready to make a delicious cup of coffee.
Ocean View
From your balcony see the sea; 800 meters walk and you are on the beach.
Breakfast
The most extensive breakfast including smoothies, fresh fruit, freshly baked breads and much more!
Checkin & Checkout
Please let us know what time you land and what time your plane leaves. Then we will make an appropriate schedule for you to enter and also leave your room. Anything goes……..
Cancellation policy
We have strict cancellation policies. Clear and not difficult.
A few house rules
Without rules, things just don't work:
* No pets allowed
* Adults only
Any other questions?
we are ready for you!
Information
What's in the neighborhood?
There is so much to see and experience. A small bouquet:
Restaurants
The choice is vast: Starred restaurants, Ventas with delicious tapas, the international cuisines. Everything is there and open all day.
Golf
Costa del Golf is what it's called here. More than 50 golf courses around us.
I personally golf at Miraflores Golf Club, but La Chaparral, Calanova Golf, Alhaurin Golf and Lauro Golf are also well worth a visit.
Adventure
Your content goes here. Edit or remove this text inline or in the module Content settings. You can also style every aspect of this content in the module Design settings and even apply custom CSS to this text in the module Advanced settings.
Bars & Lounges
A beer in the "Dutch pub" or pool in a pub. It's all possible!
If you walk along the Passeo Maritimo you will see almost exclusively catering establishments. Walk down the narrow streets of Fuengirola and you'll come across cozy little joints. From ventas to starred restaurants – from tapas tent to wine bar.
Shows & Entertainment
Carnival, Semana Santa (Easter Week), Fiestas and regional holidays. Wonderful to enjoy the Spanish traditions.
Also visit the fair or go to a flamenco show. And of course there is lots of live music at the many reastaurants and beach bars.
Biking & Hiking
Hiking in the Sierra de Mijas is a lot of fun. Go to the Pico de Mijas (1150 m. above sea level) and look over the entire coastline of the Costa de Sol. On a clear day you can see Africa and with a little luck you will encounter mountain goats.
If you really want to do some adventurous hiking then don't skip the Camito del Rey! (do buy tickets in advance)
City Trips
The cities of Malaga, Granada, Cordoba and Seville are well worth a visit.
Granada is of course known for the Alhambra, in Cordoba you go to the Mezquita and in Seville you should definitely go to the Royal Palace and to the Cathedral.
We had a few wonderful days on the Costa del Sol. A fine guesthouse, a relaxed atmosphere and perfect care.
The surroundings were beautiful; Fuengirola very nice, Malaga a beautiful city and the beaches were fine.
Oh yes, public transportation connections are excellent. We will definitely be back!
It's been a nice break and good to get to know you both a little better. We are back in Torreblanca on 28th of June so we look forward to seeing you then.
Our love to you.
Why not come to Maravilloso……
We have a room available!
Why wait to book your room yet?
You feel like it, don't you?